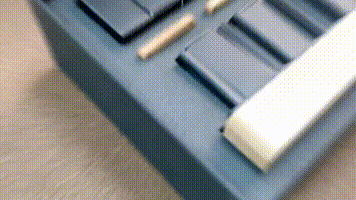 Product Details
RAINBOW TIME
RGB full color clock
Enjoy colorful times everyday
Retro pseudo glow tube clock style
16 million colors freely set
Q: This product is so beautiful. What is it?
A: This is A creative clock, you can set any cool time digital display color, it is A gift and good choice for personal use!
Q: How does this clock tell the time?
A: If the numbers say 14, 02, 11, that's 14:02, 11.

Q: I see that the clocks of the same model are all parts, which take a lot of time to assemble before they can be used.Do you need to assemble this clock yourself?
A: The factory has pre-installed the main part when shipping, users only need to self-assemble the acrylic digital sheet can be used.You can do it in half an hour if you're smart.

Q: Is this clock rechargeable or plugged in?
A: This clock is powered by A USB port. USB power supply and micro-USB charging cable are delivered.

Q: Does the time need to be reset after the power failure?
A: There is A button battery on the motherboard. It will continue to run when power is off. There is no need to reset the time to plug it in after power is off.

Q: Is this clock convenient to set and adjust the time?Can I use the computer to set it?
A: The clock is equipped with A special time setting button, which is very convenient to set the time. It does not need to set the time by computer at all.Built-in clock chip is very accurate, do not often adjust the time, simple worry!
-SHIPPING, RETURNS & SERVICE-
Fast Delivery for all products. Processing Time : 1-5 Working Days.Estimated Arrival : 7-20 Working Days.We have a 30-day return policy. For more details see Shipping & Returns. Any questions or helps, pls email service@wlikeshop.com or message us.