Give your son the most thoughtful gift to start the year with.
This beautiful traditional quartz movement full pocket watch is engraved with a personal message. It reads: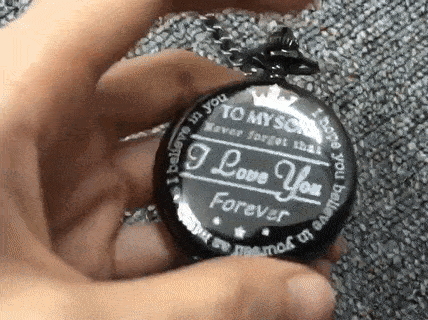 "To my son, never forget that I love you forever.
I hope you believe in yourself as much as I believe in you."
Encased is an elegant numbered dial, featuring a sleek small analog inner ring. The front opening of the case is polished for a lustrous shine and is effortlessly released to reveal the unique face.
Use this vintage pocket watch as a reminder of the love you have for them. It is sure to put a smile on their face whenever they see it, no matter where their travels may take them.
Details:
Movement Type: Quartz
Mirror Material: Acrylic Glass
Case Material: Zinc Alloy
Color: Black, Silver, Gold
Size: 4.5cm Diameter