Black Set™ 3.5x
Our Black Set model includes a set of 3.5x magnification flip-down loupe lenses and 5W led headlight.
Including a clip to attach loupes on your own prescription glasses!
This anti-fog, easy-clean, clear-view powerhouse is perfect for locating canals in tricky endodontic cases or giving your composite masterpieces that extra bit of detail in your restorative work.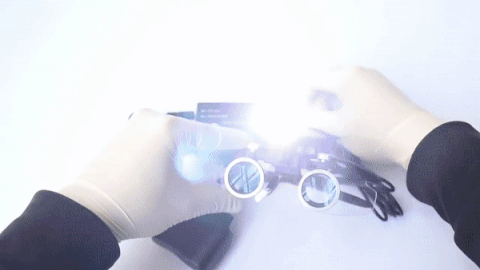 Specifications
LOUPES:
Magnification: 3.5X
Working distance: 420mm
Depth of field: 80mm
Field of View: 60mm
HEADLIGHT:
LED Bulb: 5W
Illumination: 15000-30000Lux
Continuous work time: after full charge 5h
Life time of bulb: 10000h
Battery: Re-chargeable Li-ion
Input Voltage: AC100-240V / 50-60HZ
FAQ:
Does the Filter affect the quality of the light to object(teeth)?
Of course it does but it eliminates the spectrum of light which causes unwanted photo polymerization. It should be used only when using photo initiated polymerization materials.
Can the loupes fit on corrective or prescription glasses?
Yes. You can attach loupes and headlight on your own glasses. Set includes clip on that you need to set everything up. It is very simple and intuitive.
How many hours does the headlight lasts after fully charged?
Headlight last one working day once it is fully charged (minimum 5 hours of active use).